Descrição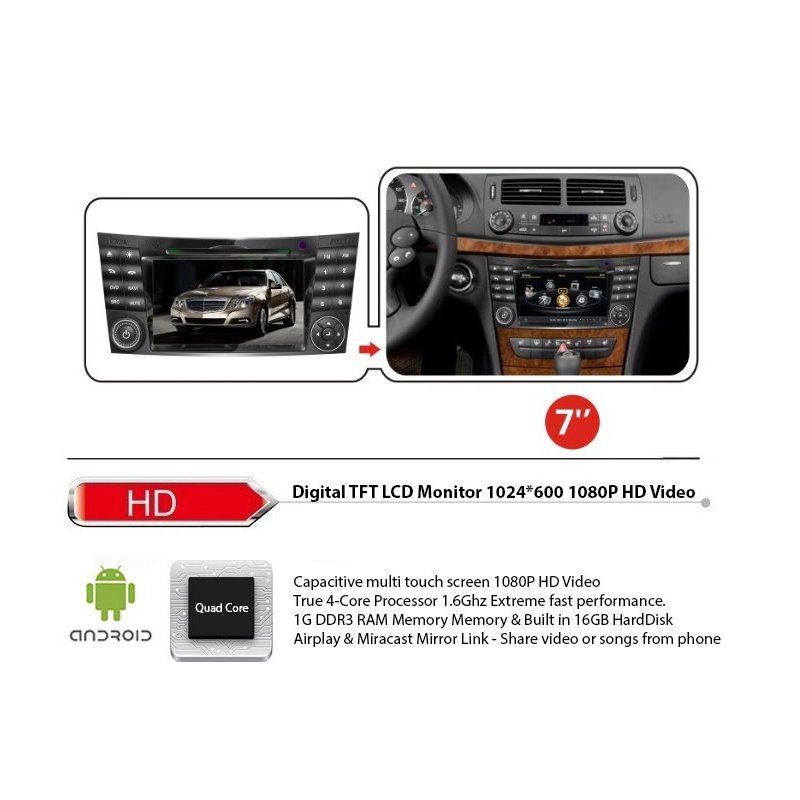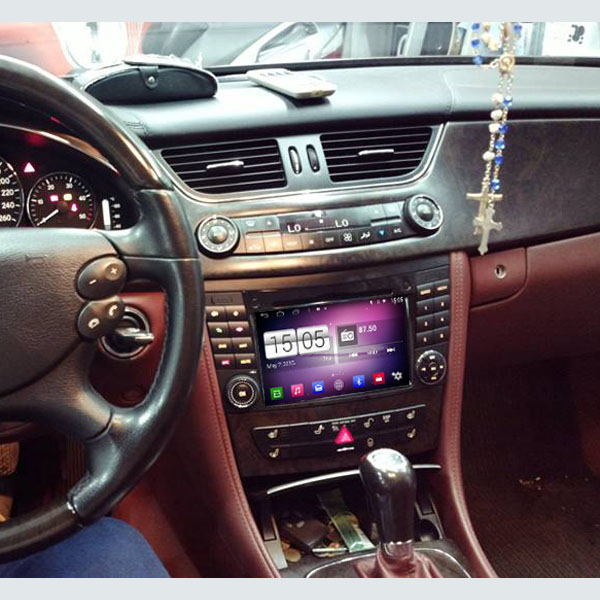 COMPATIBILIDADE:
100% nos seguintes veículos:

 



Mercedes-Benz W219 W463 E-Class W211 (2000-2008)
CLS W219
G Class W463
CLK W209 E200/E220/E240/E270/E280
Nota: Em alguns modelos verificou-se incompatibilidade com os comandos do volante, isso deve-se às especificações do sistema original da viatura e não a uma avaria da unidade.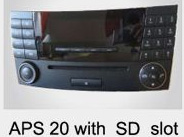 Para viaturas com cabo de fibra óptica e unidade de rádio na mala, irá necessitar de uma extensão de 5 mts para concluir a instalação. Contacte-nos ou adicione simplesmente 89 € ao pagamento para que lhe seja enviada essa extensão.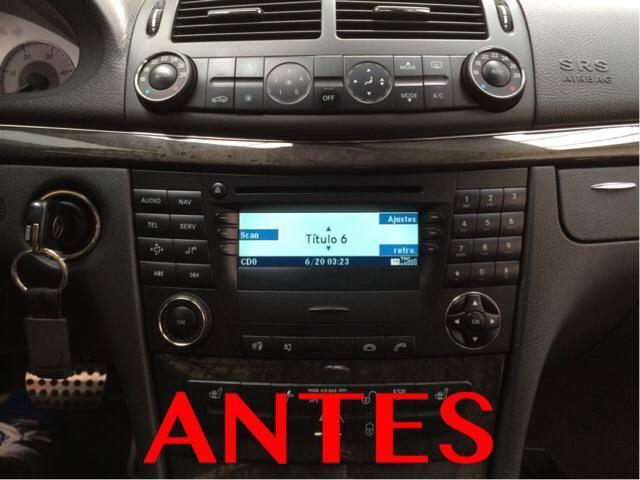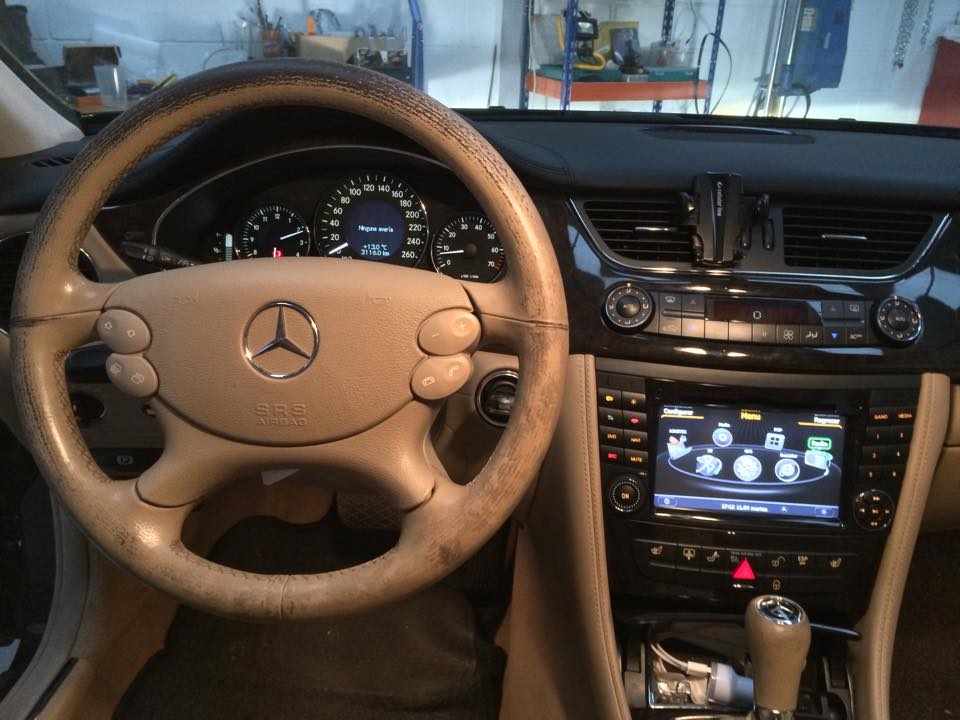 - Sistema operativo Android 12.0

- CPU: Rockchip 3188 Quad-Core 2GHZ 32GB
- Ecrã capacitativo  HD 1024x600
- Airplay & Miracast -  Espelha o ecrã do telefone para a unidade central: 
* Android 4.2 ou superior. IPhone iOS 7.0 e acima) 
- Disco rígido 32GB 
- Memória 2G DDR3 RAM 
- Vídeo 1080p HD
- Microfone Bluetooth externo e incorporado
- Modem WiFi adaptador de alta velocidade Wi-Fi incorporado
- Download de diversos aplicativos gratuitos do mercado Android
- Moden Externo 4G  (opcional)
- Sistema de DSP - Grande qualidade de  saída de áudio, configurações de equalização de som personalizadas.
- Chipset GPS de grande sensibilidade, suporta / mapas 3D em 2D, navegação por voz.
- Sistema mãos livres inteligente Bluetooth, com o visualização da lista telefónica e reprodução música Bluetooth (A2DP).
- A mais alta configuração de rádio com RDS, TDA7706 Chipset ( Philips)
- Suporte HD de jogos 2D e 3D
- Camera dianteira e traseira da câmera podem trabalhar em conjunto
- Suporte SD / MMC / SDHC Portas SD, SDHC Suporta Max 64G, HDD
Instalation Notes:

OPTIONAL: For mercedes benz with original GPS or fiber optic cables to amplifier in the trunk: You should use our 6m long power cable B5 which is optional (Select in dropdown), just run the long cable B5 from the back of the navigation DVD unit to the rear plug which is connected with amplfier and speakers under the trunk, so you need to unplug the existing amplifier with speakers, and then plug the other end of the long cable with speakers and by-pass the existing amplfier. P.S. Our DVD head unit has amplifier built-in.
 
Capacitive HD1024*600. GPS, 1080P video, Front and Rear Camera (optional). External Mic Included. Europe Maps as a gift (Another places ask us). DSP
Options: Front DVR Camera with MicroSD 8GB, touch screen operation. Rear Camera Universal. DVB-T Box with 2 active antenna, USB DAB+ Receiver

We send from European Union

Android 7.1, Quadcore 4x1.6Ghz. 16 GB ROM, 2GB RAM. 4x45W. SD/USB, WIFI, BLUETOOTH and much more
Specifications Platform Android S190

CPU: Intel y RK, Cortex-A9 8 CORE, 2GB RAM DDR3, Android 12.0
Capacitive Multi-Touch HD, support high definition formats up to 1080p
Wifi Built-In
Mirorlink, 2 way work.

Main component configuration
CPU
Intel & RK, Cortex-A9 8 core processor
Frecuency
up to 1.6GHz
Memory
Flash
eMMC 16GB
RAM
DDR3 2GB
MCU
32 mainstream ARM controller、STM32F091VCTx QFP100
Touch Panel
Capacitive touch panel (G+G, Support 5 points touch)
Radio
ST7786M/NXP6686
DVD Loader
Corepine 860MC
DVD Decoder
SPHE8288
Audio Processor
Rohm BD3702
Operating System
Android 7.1
Main Functions
Display Screen
Dimensions
5~13 inch depend of model
Display Resolution
800 * 480, 1024 * 600, 1024 * 768. Maximum support HD 1080p
Display Interface
TTL LVDS
Color
16bit 24bit
Radio
AM / FM
Sí
RDS
Sí
Digital DAB+ Radio
Optional
Bluetooth
Bluetooth Phone
Yes, with internal and external mic (included)
A2DP
Yes (BT music APK can enter from main unit)
Protocol
BT 4.0, HFP / HSP, A2DP, AVRCP, Phone book download
Navigation
GPS
Yes
GLONASS
Yes
Television
External TV box
Optional, with touch screen control (DVB-T Mpeg4 or DVB-T2)
Audio Player
Support Media Type
APE, FLAC, MP3, WMA, WAV, OGG, etc.
Video Player
Support Media Type
AVI, RM, RMVB, WMV, ASF, FLV, DAT, MPG, MP4, VOB, 3GP, etc., HD 1080P RMVB, etc.
Image Browser
Support Media Type
JPEG, BMP, GIF, support image preview, zoom, etc
DVR
USB Interface
Support optional DVR front camera
Mirror Link
Android mobile phone
Yes (The phone need to be Android 4.2 or higher)
Apple phone IOS
Yes (iOS 7.0 or higher)
TPMS
 
Optional
OBD Display
 
OBD2 optional
Audio Processing
 
Volume, Bass, Treble, Balance, Fader, Loudness, EQ
USB
Support 4 ways USB, up to 64GB
Compatible USB1.0, USB2.0. Support audio, image, video playback
SD
2 MicroSD, up to 64 GB
Support SD 3.0, SDHC. Audio, image, video Playback
WIFI
Wifi
Yes, Built-In; protocol 802.11 b / g / n
Automatic brightness control
ILL Detection
Yes
Rear Camera (optional)
Switch to reverse mode
Under 1 second
BACKING track
Support
Another parameters
Working Temperature
-20ºC a 70ºC
Working Humidity
5% ~ 95%
Operating Voltage Range
9V ~ 16V
Sleep Current
max. 9mA
Deep standby current
max. 3mA
System cold start time
Within 30 seconds (from deep standby to normal)
Fast System Start
3 seconds (from normal standby)
FEATURES
Prestigious manufacturer with many years in the market, devices are incomparable in terms of quality of manufacture.
And this series has many important advantages: more RAM, durable materials, greater stability and power.
GPS, Radio AM/FM with RDS (Stations name OK), Bluetooth external mic included, Google Play, USB, SD, Mirrorlink, WiFi Built-In, Equalizer
These are just some of the functions we can find on this unit. Multilanguage: Spanish, English, French, German, Italian, Polish, Hungarian, etc.This is android!
Supports all Android software (Compatible with the android version of the product)
Support all maps for Android (Compatible with the android version of the product). Nonetheless we include as gift, Europe maps.
Smart menu, simple and clear access to functions, quick navigation

Rockchip PX3 / RK3188 4-core processor in Cortex-A9 architecture, 2 GB DDR3 RAM and 16 GB internal memory.
The Android 7.1 operating system Nougat. Faster, more stable, more fluid.
GPS with gift maps (Europe, for other areas ask us), Wi-Fi (you can connect it to your shared 3G / 4G mobile phone connection or WiFi network, Bluetooth, microphone included
The radio is equipped with a capacitive multi-touch HD display. Resolution: 1024 * 600 HD
The sensible screen responds even to a light touch and recognizes up to 5 touchs at a time.
You can change the wallpaper, widgets.


Mirrorlink: To project your phone / tablet into the unit and share files (music, video ...)

 



Built-in MirrorLink allows you to mirror the compatible phone's display on your computer and access music and map applications, etc.

 


Compatible with Android phones with at least Android 4.2 or higher, and with iPhone with at least iOS 7.0 or higher.


CD / DVD Free Region, Disc playback compatibility: DVD-R / -RW, DVD + R / + RW, Video CD, SVCD, Picture CD, CD-R, CD-RW. Playback Compatibility: MP3 / WMA / ASF / MP4 / AVI / DAT / DIVX / MPEG / SVCD / VCD / XVID

Built-in GPS. Stability and quality are the hallmarks of this model.

 



GPS/Glonass


1080P HD
 



4x45W, spectacular sound, DSP. Multiple audio settings, graphic and function EQ.

 



AUX video input, RCA AV Out: you can connect additional headrests or monitors, after connecting them, the rear passengers will be able to see DVD signal that sends from the equipment. Subwoofer RCA output.
For digital TV you need to add the option "TDT BOX Mpeg4 Touch"


DVR recorder front camera optional with touch screen control


Rear view camera input (optional camera with reference lines)
Automatic shift to backview when reverse gear.

 



Bluetooth 4.0:
With phonebook and A2DP, internal and external micro included with reduction of ECO and correct sound in call. Bluetooth module for hands-free calling and A2DP music streaming. You can pair your phone via Bluetooth with the unit and will reconnect automatically every time you get into the vehicle, phone calls will listen through the car speakers. Supports A2DP, Bluetooth Wireless Music Streaming from your mobile phone. Phonebook transfer, Synchronization Mobile phone language, automatic contact search


Music, Video, Picture, 2x USB Ports (Max. 64GB) and 2x microSD Slots. (Max 64GB), supports SDHC
Also music, video can listen through internet and Android applications. In addition to the CD / DVD.
CanBus Incluided, steering wheel control ok
Product Notes:
This model is compatible with all GPS software for Android. As the seller, ExclusiveCarAuto.com provides the GPS-enabled hardware and maps of Europe as a gift. ExclusiveCarAuto.com provides no customer support regarding GPS software. ExclusiveCarAuto.com cannot provide downloads , links , advice regarding GPS software.
Please Note: If you upgrade this android version with a non official brand version sent from us, or product version, or change internal firmware (root), will avoid warranty of product. Do it under your responsibility.
Package content
Car DVD GPS S190 Android 7.1 QuadCore Wifi

GPS Antenna

2xUSB Cable

Remote Control

External Mic

CanBus

AV Cable, RCA cable

Specific Power Cable.

User Manual (English)
Options
DVB-T BOX Youch Operation 180km/h+2 active antenna (DIGITAL TV MPEG2/MPEG4): +70 Euro
Front DVR recording Camera with 8GB SD Card, touch control: +36 Euro
Universal Rearview Camera: +15 Euro

                              DEMONSTRAÇÃO DO PRODUTO     
Produtos similares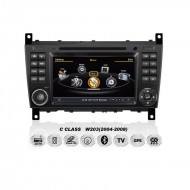 NOVO
NOVO
11%